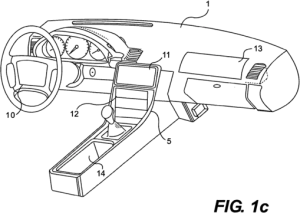 Apple fa sul serio: dopo aver introdotto 'iOS in the car' con la versione 7 di iOS (ma state sicuri che il nome cambierà… ) ecco un brevetto per un sistema di infotainment per auto.
Il nome ufficiale del brevetto 8482535 è "Programmable tactile touch screen displays and man-machine interfaces for improved vehicle instrumentation and telematics" ovvero uno schermo con tasti riconfigurabili per controllare funzioni sia di infotainment sia dell'auto (ad esempio i comandi clima).
Leggendo il brevetto, non ci sono ad oggi rivoluzioni rispetto a quanto c'è giù sul mercato sulle head unit di gamma alta 8schermo touch, feedback tattile, connessione con il cellulare, possibilità di caricare applicazioni sulla head unit, etc), ma… Apple ci ha abituati a grosse sorpese.