Interessante studio del Pew Research intitolato "The Search for a New Business Model, How Newspapers are Faring Trying to Build Digital Revenue": in generale, la transizione verso il digiale è ancora molto lenta e gli introiti dell'advertising on line faticano a rimpiazzare le perdite accumulate dai mancati introiti pubblicitari sul cartaceo.Tra i fattori che più pesano l'inerzia culturale delle testate, colpevoli di non investire risorse significative nel digitale. Se è vero che molte revenue dal digitale sono ancora marginali, è anche vero che il trend di crescita è impressionante e in futuro i soldi arriveranno proprio da lì.
Come fa notare il Pew, esistono giornali che già oggi ottengono risultati e altri che accumulano perdite, segno evidente che il successo è influenzato non solo dai trend esterni ma anche dall'approccio culturale e del management. In altre parole, chi abbraccia il digitale in maniera convinta può già oggi raccoglierne i frutti.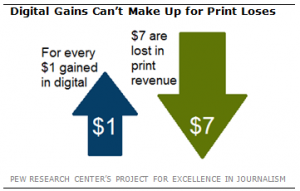 The papers brought in about $1 in digital advertising for every $11 in print. To get to the mythical "crossover point," at which digital dollars would overtake print, one executive said "was reducing the annual print losses to somewhere between 6% and 8% and growing the digital revenue at a minimum of 30% annually. Another said he thought the rate of digital growth would need to be close to 50%." One executive fretted about how much time they spent on digital versus what it brought in: "We spend 90% of our time talking about 10% of our revenue," he told PEJ.