Amazon scende sotto i 100 dollari – sarà curioso capire il prezzo in Europa, 'solito cambio 1 dollaro = 1 euro? – per il nuovo lettore di ebook Kindle.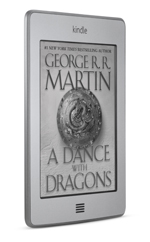 There are two types of companies: those that work hard to charge customers more, and those that work hard to charge customers less. Both approaches can work. We are firmly in the second camp.
Con questa dichiarazione, Amazon annuncia il nuovo Kindle, disponibile in inglese americano e britannico, tedesco, francese, italiano, spagnolo e portoghese brasiliano.
Tra le caratteristiche principali:
– il più piccolo e leggero Kindle di sempre, 170 grammi e 18% più piccolo del precedente pur mantenendo invariato lo schermo da 6 pollici
– processore ottimizzato per voltare pagina il 10% più velocemente
– Wi-Fi integrato
– memoria fino a 1.400 libri, batteria fino a un mese di durata (con il wireless spento) con una sola ricarica
– salvataggio file su cloud per i libri acquistati dal Kindle Store e lettura su Kindle, iPhone, iPad, iPod touch, PC, Mac e dispositivi basati su Android.
Buona lettura 🙂