IMS Research ha appena pubblicato i risultati di vendita per eReader e Tablet: in crescita costante entrambi, con un'accelerazione significativa in particolare per i secondi.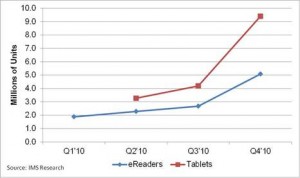 eReader shipments rose 90% Q/Q and 116% Y/Y worldwide to a record 5.1M units. Priced as low as $99, eReaders enjoyed strong demand in North America and Europe as a growing number of consumers gave the gift of eBooks this holiday season. Amazon and Barnes & Noble were the primary beneficiaries gaining share at the expense of Sony, Hanvon and others. Barnes & Noble overtook Sony for #2 in Q4'10 and its new NOOK Color eReader, retail presence and growing eBookstore should result in further share gains in Q1'11.
According to IMS Research Displays SVP Ross Young, "With strong promotional efforts in Q1'11 and the NOOK Color ramping, we expect minimal seasonal weakness in Q1'11. In fact, a 2% sequential and 178% Y/Y increase is predicted to 5.2M units. For all of 2011, 146% growth is predicted to 29M eReaders on lower prices in 2H'11, increased availability of new functions (touch) and new features (color) and the maintenance of a wide price gap vs. tablets.
• Tablets grew even faster, rising 124% Q/Q to 9.4M units on strong iPad holiday sales and significant sell-in of the Samsung Galaxy Tab. Apple's sell-in market share fell to 78%, with their sell-through share significantly higher. According to IMS Research's Young, "In Q1'11, the tablet market is also expected to experience minimal seasonal weakness, falling 6% to 8.8M units. Sequential growth is not expected as new product shipments from Apple, Motorola, RIM and others are not expected to offset sell-through challenges at Samsung, traditional seasonal weakness and certain component constraints. For all of 2011, IMS Research predicts tablet growth of 242% growth to 58M units or 23% of the total portable PC market, up from 8% in 2010 on widespread consumer adoption and increased acceptance in commercial enviroments. Apple is projected to maintain over a 75% share of the tablet market in 2011 on its software, cost, price and first mover advantages. Tablet displays are expected to rise 247% to 63M.